On today's Dr. Oz Show, it was all about different tests that women should take, especially as they are getting older. It's all about being healthy and making sure everything in your body is up to par. One area of being healthy is for those with diabetes. He recommends a supplement called Chromium Polynicotinate, one Dr. Oz has talked about in the past.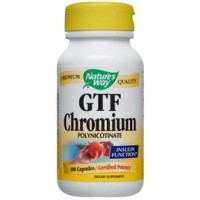 Dr. Oz Chromium Polynicotinate
Dr. Oz says taking 200 mcg of chromium polynicotinate daily can improve how insulin works in your body. He even goes so far as to bring pre-diabetics, the people in the 100-125 blood sugar range, back down to healthy blood sugar levels. Can this simple supplement do that? Dr. Oz thinks so!!!
Chromium Polynicotinate Directions / Dosage
Dr. Oz recommends taking 200mcg per day.
Where to Buy This Supplement?
We sell Chromium Polynicotinate in the exact 200mcg dosage he recommends. Best all of, it's only $6.99 for 100 caps!