On today's Dr. Oz Show, Dr. Oz talked about different remedies for pain. From White Willow Bark, to the Pain Power Pill, Dr. Oz talked about all the different natural solutions to different pains in your body. One thing that many people deal with is joint pain and Dr. Oz recommended Arniflora Arnica Gel.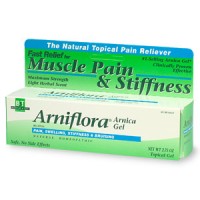 What is Arniflora Arnica Gel
Arniflora is a modern pharmaceutical preparation containing 8% tincture of Arnica montana. Arnica montana tincture is a medicine that has been used for centuries to relieve the aftereffects of falls, blows, sports injuries & overexertion. It makes black-&-blue marks go away faster & relieves the pain, swelling, & stiffness caused by physical trauma. It is a favorite of athletes, coaches & trainers.
Dr. Oz on Arniflora Arnica Gel
Dr. Oz said that this is a homeopathic remedy can be used for knee or joint pain (I have some in my elbox right now!). According to the manufacturer of the product it can be used for even more...bumps, bruises, sprains, sports injuries & over-exercising.
Where to Buy Arniflora Arnica Gel
Dr. Oz recommended drug stores. You can actually purchase this at Best Price Nutrition for less than $10 and have it shipped the same day!