On today's Dr. Oz Show, Dr. Oz discussed many way to help boost memory. Specifically the myth that your memory declines as you age. This doesn't have to be the case says Dr. Oz, and to prove it, he had Memory Expert and two Time Guinness Book of World Record Holder, Dave Farrow, on the show to chat about it.
So in addition to eating beets, cashews and avocados, Dr. Oz discussed taking Bacopa Extract for memory.
Dr Oz on Bacopa Extract as Memory Booster
Dave Farrow stated that you will begin to feel results in 2 weeks after having a couple of servings of these superfoods per week and recommended taking at least 150 mg of Bacopa extract per day. This amount is available in Planetary Formulas Bacopa Extract.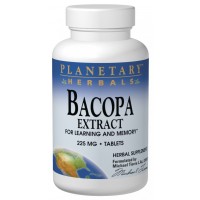 225mg of Bacopa Extract Per Tablet