As talked about the the Dr. Oz Show CocoaWell is available at bestpricenutrition.com! For those chocolate lovers out there, this is a dream come true for you. Doctor Oz says that you can have chocolate on the Lazy Girl's Guide to Getting Healthy program.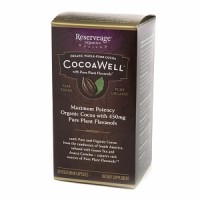 What is CocoaWell?
Following centuries of tradition, indigenous people off the coast of Panama drink up to 40 cups of fresh cocoa per week and experience incred­ible health benefits. According to Harvard studies, they experi­ence 1/9 the rate of heart disease and 1/16 the rate of other age-related illnesses as thei neighbors on the mainland.
Inspired by their coveted health practices, we developed a proprietary, innovative method to deliver the health benefits of fresh, organic cocoa in a two-capsule serving, without the calories and sugar associated with dark chocolate.
Introducing CocoaWell™: Guided by the customs of a culture devoted to cocoa, dedicated to a higher quality of life.
Dr. Oz on Cocoa Well
1) Cocoawell is a dark chocolate that helps lower blood pressure and cholesterol.
2) For the first time, reasearch studies show that cocoa (the raw material in chocolate) helps the intestinal system and may help with colon cancer.
3) The right kinds of foods (cocoa) contains flavonoids that help kill cancer cells that might have otherwise grown.
Where to Buy CocoaWell Supplements?