Description
What is Empyrean Nutrition Lipo-Sear?
Our Best Selling Fat Burner with Raspberry Ketones!
TV Doctor Customers: Lipo-Sear contains 100mg of the popular ingredient Raspberry Ketone. Dr. Oz's recommendation is 100-300mg per day. We recommend taking 2 capsules per day. This bottle will then last you 30 days. For weight loss. Stack with Dr. Oz's CLA he talked about on the show. For even more fat burning power, try the CLA and Raspberry Ketone Stack!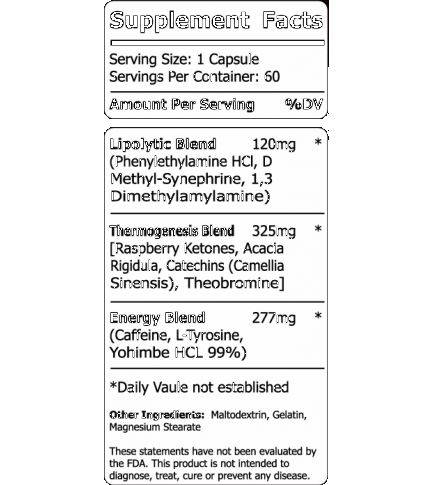 A comprehensive, three-pronged approach for the fastest fat-loss available:
* Appetite and craving control - Stop binge-eating
* Sustained, All-day energy - No crash later
* Mood elevation and mental focus

An advanced thermogenic fat-burning formula containing a synergistic blend of nine ingredients to support fat loss in multiple pathways. If taken twice daily, these ingredients can increase metabolism and fat-burning for up to 8 hours. When combined with exercise and a reduced-calorie diet, Lipo-Sear can help you reach your weightloss goals.

Most products labeled "fat-burner" or "fat-loss aid" are nothing more than exceedingly high doses of caffeine and other stimulants or worse, herbal diuretics. These types of products produce quick energy now at the expense of exhaustion later, beginning a dangerous cycle of abuse and reliance.

Although Empyrean Nutrition's Lipo-Sear contains a moderate amount of caffeine (about the same as an 8-ounce coffee from Starbucks), the "feel" of this product is markedly different. Lipo-Sear will produce lasting, clean-burning energy for 6-8 hours with no burnout, even after prolonged use. This sustained energy can be harnessed for more productive workouts.

Lipo-Sear will gently suppress cravings, especially those for snack foods — processed foods high in sugar, carbohydrates and fats. Two-three capsules per day, between meals, will obviate the need for mindless snacking while still allowing for normal eating.

Unlike some of the harsher compounds, Lipo-Sear will not completely eliminate appetite early in the day, which leads to binge-eating at night. Instead, Lipo-Sear will allow you to simply eat less and feel satisfied without interrupting a regular eating pattern.

Lipo-Sear contains active components of raspberries, chocolate and green tea. While these compounds have fat-loss properties, certain compounds in Lipo-Sear also cause mood elevation by supporting neurotransmitter function, a critical aspect of concentration and brain acuity.

A common affliction for dieters is "brain fog," a general mental fuzziness and inability to maintain focus for extended periods of time, and chronic dieters may also exhibit irritability. Lipo-Sear is effective in preventing these unwanted side effects.

Lipo-Sear's ingredients will counter the three main reasons diets fail: uncontrollable hunger, lack of energy and mental fatigue.
Directions
As a dietary supplement take one capsule in the morning and one capsule in the afternoon. Do not exceed 2 capsules in a 24 hour period. Do not take past 4pm. Use for no longer than 8 weeks straight, followed by an off period of at least 2 weeks before resuming use.
Warnings
Not intended for use by persons under 18 years of age. Consult a physician before using this product if you have any medical condition including, but not limited to, strokes, high blood pressure, heart, liver, kidney or thyroid disease, diabetes, anxiety, other psychiatric conditions, a family history of these or other medical conditions, or if taking any prescription, OTC and/or other herbal medication.
Highlights
Craving Control
Sustained \"All Day\" Energy
Mood Elevation
Increased Lipolysis
NUTRITION FACTS
Serving Size 1 Capsule
Servings Per Container 60
Amount Per Serving
| | Serving | % DV |
| --- | --- | --- |
| Lipolytic Blend | 120 mg | - |
| Thermogenesis Blend | 325 mg | - |
| Energy Blend | 277 mg | - |
*percent Daily Values are based on a 2,000 calorie diet.
* These statements have not been evaluated by the Food and Drug Administration. This product is not intended to diagnose, treat, cure or prevent any disease.
Nutrition Facts are a simulation of the product "Nutrition Label".For the actual Nutrition Label refer to the product packaging.
Ingredients:
Maltodextrin, Gelatin, Magnesium Stearate
Ask a question (1)
Questions on Empyrean Nutrition Lipo-Sear w/ Raspberry Ketones
Sort by
From Belen at 2/20/13 4:13 PM

I tried Empyrean Nutrition Lip-Sear w/Raspberry Ketones last year. Works great! When I tried to re-order again I find it has been discontinued. It works great for me as it does all the good things the reviews say (the 9 good ones).
Would like to order it again, any information you can give me on this is much appreciated.
Is it dscontinunued permanently? Any extra bottles left over that I may purchase?
If this product is NOT coming bac k, could you suggest/recommend another one that perhaps is similar/works like this one that is discontinued???
Thank you for any help/information you can give me,
Belen
This product was discontinued. The closest thing to it is MAN Sports Scorch - http://www.bestpricenutrition.com/man-scorch-remix-168-caps.html
Customer Reviews
Works great! Does all it claims! (Review by Belen)

| | |
| --- | --- |
| Recommend to a Friend | |
| Use Again | |
| Effectiveness | |
| Total Rating | |

Needed to lose some weight, but needed energy to get me & keep me going. I also have cravings for sweets & this helped me with controlling my cravings, binge eating & overall appetite. My mood has improved, I feel good & enegized all day long. This product works!
Thanks BestPriceNutrition for your discounts! (Posted on 2/20/13)


Would you recommend this product to a friend? Definitely yes

Thanks! (Review by Ida)

| | |
| --- | --- |
| Use Again | |
| Effectiveness | |
| Total Rating | |
| Recommend to a Friend | |

Thanks to Dr. Oz for this product information. Thanks to Best Price Nutrition for great prices and service. Thank you (Posted on 5/30/12)


No Shakes (Review by Aspen)

| | |
| --- | --- |
| Recommend to a Friend | |
| Use Again | |
| Effectiveness | |
| Total Rating | |

I take prescription medication which makes me very sensitive to stims. Razor8 made me feel like my heart was going to beat out of my chest. Liposear is nothing like that and my BMI is under 10%. I'm 53, I can sleep at night and I'm more ripped than ever. (Posted on 1/30/12)


No Shakes (Review by Diamond)

I tried oxy elite, but it made me shake pretty bad so was recommended this. Gave me a warm feeling and wasn't that hungry. No shakes, which is what I worried about. Only been on it for 3 weeks, we will see how it goes. (Posted on 11/21/11)


Worked at First (Review by Anonymous)

| | |
| --- | --- |
| Recommend to a Friend | |
| Effectiveness | |

Worked great at first...but after two weeks of taking my appetite returned and binge eating began. I felt hungrier than ever. Going to try a different product. (Posted on 11/19/11)


Lost 10lbs for Wedding (Review by Jessica)

| | |
| --- | --- |
| Recommend to a Friend | |
| Effectiveness | |

Thank you for recommending this. It helped me lose the last 10lbs I needed for my wedding. I told the trainer what I have been taking and she is going to try it as well. I made to buy another bottle after the honeymoon! (Posted on 7/20/11)


Review of Empyrean Nutrition Lipo-Sear 60 Caps (Review by Donna)

| | |
| --- | --- |
| Recommend to a Friend | |
| Effectiveness | |

Works great. (Posted on 2/10/11)


My Favorite Fat Burner (Review by Amanda)

This is the first time during the holidays I actually lost weight!
This is a product I will continue to use next year (Posted on 12/24/10)


Weight Starting to Drop (Review by Tony)

| | |
| --- | --- |
| Recommend to a Friend | |
| Effectiveness | |

Taste Fine.
Good energy with no jitters.
Noticeable decrease in cravings.
Weight starting to drop, but long way to go. (Posted on 12/1/10)


Awesome!! (Review by Ryan B)

| | |
| --- | --- |
| Recommend to a Friend | |
| Effectiveness | |

Lost about 10 pounds. Recommended!!! (Posted on 8/9/10)


Lipo-Sear (Review by Angela Bloom)

| | |
| --- | --- |
| Recommend to a Friend | |
| Effectiveness | |

Is a excellent product ... does exactly what it promises! Love it! (Posted on 3/29/10)

See All Reviews