TRY THE NEW BODY NUTRITION TRUTEIN 2lbs Size or 4lbs Size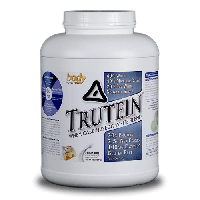 TruNutrition Sciences Trutein Pumpkin Pie 5 Lbs
Exclusive Flavor with a Limited Supply!
We are proud to introduce Trutein, an ultra-premium protein powder designed for professional athletes. We specifically formulated Trutein to be the best-tasting and most innovative protein available. Consequently, Trutein delivers more health benefits than any other existing protein. Some features include:
Sustained-Release Protein Blend of Whey, Micellar Casein & Egg White
Recovery Module featuring Omega-3s & Nucleotides
Labeling Integrity, i.e. no label dressing
Pumpkin Pie Flavor
40% Whey, 40% Micellar Casein & 20% Egg White
23g Protein, 5g BCAAs & 4.6g Glutamine Precursors
To continuously fuel new muscle synthesis
75mg Omega-3s & 20mg Nucleotide Recovery Module
To reduce inflammation & lower cortisol
100mg Trusorb Amino Acid Utilization Enzyme Module
To increase amino acid uptake
2.5g Prebiotic Fiber Blend
To promote digestive health and satiety
Directions
Mix 1 scoop Trutein with 6-12 ounces milk or water. When taken post-exercise for recovery purposes, we recommend supplementing Trutein with one serving of natural carbohydrate (e.g. apple, banana, or orange).
Ingredients

Serving Size 1 Scoop(34g)
Servings Per Container 67
Amount Per Serving
Calories115
Calories From Fat10
% Daily Value*
Total Fat1.5g2%
Saturated Fat0.5g3%
Cholesterol30mg9%
Sodium45mg2%
Total Carb5g2%
Dietary Fiber2.5g10%
Sugars1g
Protein23g46%
Omega-3 Fatty Acids75mg**
From Flax And Chia Seeds
Nucleotide Blend20mg**
Providing Adenosine, Cytosine, Guanine, Inosine & Uracil Monophosphates
Protease Enzymes100mg**
Other Ingredients:
Trutein® Protein Blend (Pure Undenatured & Nonthermally-Processed Nanofiltered Milk Protein Isolate [Providing Micellar Casein], Ultrafiltered Milk Protein Concentrate, Egg Albumen, Cross-Flow Nanofiltered Whey Protein Isolate, Ultrafiltered Whey Protein Concentrace), Cocoa Powder Blend (Swiss, French, German), TruFiber™ (Inulin, Fibersol2, Beta-Glucan), Natural And Artificial Flavoring, Dried Banana Powder, Protease Enzymes, TruMega-3™ (Flaxseed Oil, Chia Seed Oil), Oat Starch, Nucleotide Mix (Brewer's Yeast, Cytidine 5'-Monophosphate, Disodium Uridine-5'-Monophosphate, Adenosine, Adenosine 5'-Monophosphate, Disodium Guanosine 5'-Monophosphate), Xanthan Gum, Cellulose Gum, Guar Gum, Acesulfame Potassium, Sucralose, Neotame, Soy Lecithin
This Product Contains Milk, Egg And Soy Ingredients. Manufactured In A Facility That Also Produces Products Containing Peanuts.