Applied Nutriceuticals Black Cats New Version V2 with even more Intense Energy
What is
Applied Nutriceuticals

Black Cats V2?

Black Cats V2 by Applied Nutriceuticals is the ultimate energy pill that you can take safely and daily with no known negative side effects. Black Cats produces similar effects to ephedra products without the crash or dangers of ephedra. Long lasting energy & mental clarity that lasts for hours.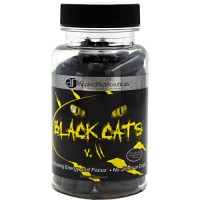 What is different with the New Version of Black Cats?
Black Cats Version 2 offers More intense workouts
Clearer mental quality
Energy without side effects
Increases moods
Melts off unwanted fat
Tones skin
Why is Applied Nutriceuticals Black Cats V2 Best for Energy?
AM Cognitism™ Complex accelerates your metabolism and elevates your BMR (Basal Metabolic Rate) – which increases the amount of calories you burn at rest. It also increases norephinephrine output for intense alertness and mental activity.

Absorption aids promote smooth sustained energy release over an extended period without the "crank and crash" effect.

Suppresses appetite for more consistent dieting and weight management.
Where Can I Buy Applied Nutriceuticals Black Cats V2?
We carry the New version of Black Cats here for only 17.99!