Best Price Nutrition carries Chromium Polynicotinate as seen on the Dr. Oz Show.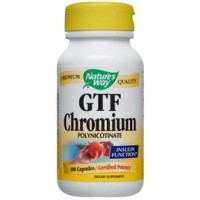 Buy 200mcg Chromium Polynicotinate

What did Dr. Oz say about Chromium Polynicotinate?
Dr Oz: Chromium Polynicotinate Prevents Diabetes
Dr Oz said that a life-saving supplement that can help prevent Diabetes is something called Chromium Polynicotinate. If we do not change the rate of people getting Diabetes in this country, then 1/3 of our population will be Diabetic in the near future. Dr Oz said to take 200 mcg of Chromium Polynicotinate daily.
Why Country Life Chromium Complex?
Chromium Polynicotinate Ingredient: 200mcg (Just as Dr. Oz recommends)
Servings: 100 Caps (3 month supply)
A yeast free biologically active chromium organically bound with G.T.F. activity. The chromium complex (ChromeMate) used in this product is the only yeast free chromium that possesses all the active properties of G.T.F. organically bound with 1.8 mg of niacin. Because the niacin is organically bound to chromium it does not give a niacin flush.
This product was talked about on The TV Doctor Show to help lower blood pressure, heal inflammation and lose weight. This Chromium Polynicotinate provides 200mcg per capsule, just as TV Show Doctor recommended per day. Taking 1 capsule per day this bottle will last you 100 days. It is also Niacin bound as recommended.
TV Doctor on Diabetic and Pre-Diabetic Visitors

If you are diabetic or pre-diabetic, The TV Doctor recommended that you talk to your doctor. Ask your doctor if he/she has heard of the link between taking Chromium and the benefits to your insulin and blood sugar levels.

What is Chromium Polynicotinate?

It is thought to support insulin production, and may also help stabilize blood sugar levels. Chromium can be found in foods such as meats, whole grains, fruits, vegetables and spices, but its concentration in these foods is significantly affected by manufacturing and processing. Chromium is also available in supplement form, as chromium chloride, chromium picolinate and chromium polynicotinate.
Why Choose Nature's Way Chromium Polynicotinate

GTF is a cofactor for insulin in the regulation of blood sugar, which is necessary for proper metabolism.
Possible Side Effects & Warnings:
Chromium is safe for most adults when used appropriately for 6 months or less. Some people experience side effects such as skin irritation, headaches, dizziness, nausea, mood changes and impaired thinking, judgment, and coordination.
Ingredients:
Serving Size: 1 Capsule

Amount/Serving

%DV

Chromium Polynicotinate (as ChromeMate® brand Niacin bound)

200mcg

167%

---
Directions:
Adults take one (1) capsule daily. As a reminder, discuss the supplements and medications that you take with your healthcare providers.
Chromium might help keep blood sugar levels normal by improving the way our bodies use insulin.
Chromium is a metal. It is called an essential trace element because very small amounts of chromium are necessary for human health.
Chromium Polynicotinate has greater biological activity than other forms of Chromium, including sources from picolinate. Chromium Polynicotinate helps to stabilize blood sugar levels and can be critical to the synthesis of cholesterol, fats and proteins.
Chromium Polynicotinate is a mineral required for regulation of blood sugar. It is involved in the metabolism of glucose and is essential for energy. Chromium polynicotinate facilitates and/or stimulates the metabolism of sugar, fat and cholesterol in the body, as well as the function of insulin. Studies have suggested that supplementation with chromium may reduce body fat, help build lean body muscle, regulate blood sugar and lower elevated cholesterol, particularly in chromium deficient individuals. Chromium plays a role in the metabolism of glucose, and is necessary for energy production. Since this mineral assists in the production of insulin, it helps to stabilize blood sugar levels and can be beneficial both for people with hypoglycemia and diabetes. It is also crucial to the synthesis of cholesterol, fats, and proteins. Chromium Polynicotinate is more effective than any other type of chromium, as it binds the elemental chromium to niacin (Vitamin B-3). This provides a biologically active form of chromium, which is more absorbable in the body.