On the season premier of the Dr. Oz Show, Dr. Oz talks about at home remedies for various conditions or illnesses such as sore throats and bloating and how simple compounds around the house or at the grocery store can help reduce naggin symptoms. One of the home remedies focuses on bloating and the body's response to retaining water. What is that home remedy for bloating? Dandelion Tea!
What is Dandelion Tea?
Dandelion is a herb that people have been using for years to relieve various issues and even as a simple additive to enhance taste.
Various benefits inlcude:
Dandelion is used for loss of appetite, upset stomach, intestinal gas, gallstones,joint pain, muscle aches, eczema, and bruises.
Dandelion is also used to increase urine production and as a laxative to increase bowel movements. It is also used asskin toner, blood tonic, and digestive tonic.
Dandelion Tea for Bloating:
Dandelion Tea can be used as a natural laxative and diuretic due to its ability to help regulate the digestive system. Drinking just a cup a tea can help reduce unwanted bloat especially for women experiencing bloating during menstruation.
In addition, Dandelion root is beneficial to the kidneys in that it aids in flushing out toxins while also lowering the risk of urinary tract infections. The dandelion also acts as a regulator for the digestive systems as it helps to reduce discomfort caused by gas, bloating, heartburn or indigestion.
How Much Dandelion Tea Should I take?
According to Doctor Oz, about a cup a day of Dandelion Tea should help dramtically reduce bloating.
Where Can I find Dandelion Tea?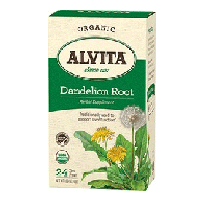 We Carry Dandelion Tea right here for only $7.99.