On today's Dr. Oz Show, Dr. Oz pointed out the 3 key supplements he recommends everyon take. Now he did speak about all the different supplements he has recommended in the past and that you should take more than 5 of them at a time, but these he said were essential for optimum health. So what are they?
Dr. Oz 's Multivitamin
Dr. Oz recommended a multivitamin. It's something you should be taking every day. He said to stay away from the ultra potency ones and to split the dose in 1/2. 1 or 2 capsules in the morning and 1 or 2 capsules at night so you absorb more of it. He said you should try to get 100% of your daily allowance from vitamins, so look for that.
We recommend Garden of Life Vitamin Code Family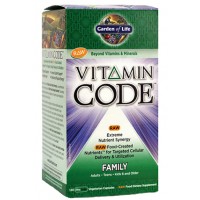 Whole food vitamins

Your whole family can take them

Not ultra potency

You can split th dose up morning and night
You can buy these multivitamins now for $28.78 + Free Shipping!
Dr. Oz's Omega-3 with 600mg DHA
Another product Dr. Oz recommended was Omega-3's. This is something people definitely don't get enough of. It has a ton of benefits!
Boost your brain health

Protect your heart and arteries

Fight wrinkles

Lubricate your joints

and more...
One thing Dr. Oz recommended was to take one with 600mg DHA. Now we don't have one with 600mg DHA, as that would be a huge pill and hard to swallow. We do have our most popular vegetarian formula that gives you 300mg of DHA per serving.
Why is Minami VeganDHA Omega-3 Our Most Popular?
For Minami focus on how there is twice the amount of Omega 3 per cap from other brands

:
Minami Nutrition's 5 strong Guarantees
1.
Up to 90 - 95% Omega-3 per one softgel

2.
Levels of PCB's, heavy metals, pesticide below the detection limit

3.
Eco-Friendly Certified Omega-3 fish oil (EMAS certified)

4.
Eco-Friendly Supercritical Purification Process

(low temperature, no use of chemical solvents like hexane and no saturated fat as filler)

5.
Scientific Proven supplements
Dr. Oz's Magnesium & Calcium Supplement
Without calcium in your diet, the body will rob this nutrient from your bones, which weakens your bones. Calcium combined with magnesium not only supports your bones, but also keeps your teeth and muscles healthy. It's important to take these minerals together since calcium alone can cause constipation, whereas magnesium will prevent this side effect.
Dr. Oz recommends chosing a supplement with around 600mg of Calcium and 400mg of Magnesium. He also said to take this with a full class of water and not to take it within 1-2 hours of taking your mutivitamin, as it can block the body from absorbing some of the nutrients.

Our most popular Magensium and Calcium supplement is Solaray Calcium & Magnesium. It gives you 500mg of Magnesium and 1000mg of Calcium per 2 capsules and it's less than $11.00!