On yesterday's show, Dr. Oz talked about natural anti-aging secrets. Dr Oz takes you to Mexico, Ghana, India and Egypt to give you their affordable and natural secrets on how to look younger. He also mentioned about mood enhancers, but to be in a better mood, sometimes you just need to look better!
Dr. Oz's Acerola Cherry C Remedy for Sagging Skin
To combat skin that has lost elasticity, Dr Oz suggested Acerola Cherry C, which comes in powder or capsule form. This is a common product in Mexico.
Dr. Oz's Recommendation: Chew one capsule every other day

Kristy from the audience tried and said it was good. She could take it every other day. Dr Oz gave her the pill and promised her the entire bottle after the show.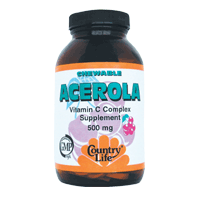 500mg Acerola Cherry C Wafers
90 Tabs
Taking 1 every other day should last you up to 6 months!