On a recent Dr. Oz Show, Dr. Oz discusses ways to reduce fat and fight cellulite. One supplement he recommends for fighting fat is a powerful enzyme that promote collagen and fat breakdown.What is this fat fighting supplement? Bromelain!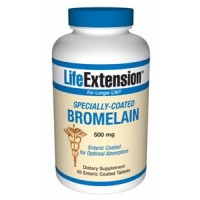 What is Bromelain?
Bromelain is powerful enzyme that offers the most benefit to break down collagen, but it is mostly found in the stem of the pineapple, which is something most of us don't want to eat, so you can take a 500 mg supplement once a day to fight your cellulite.
What Does Dr. Oz Say About Bromelain?
Bromelain has been show to have anti inflammatory benefits reducing swelling in joints and as dermal inflammation. So in addition to getting the anti-inflammatory benefit, you will also be getting the benefit of fat being released from existing fat cells.
How Much Bromelain Should I take?
Dr. Oz recommends 500 mg once a day to fight your cellulite.
Is Bromelain Safe?
Bromelain is generally safe and free of side effects when taken in moderate amounts. However, one preliminary report indicates increased heart rate with the use of bromelain.
Where I can Buy Bromelain?
We have Bromelain here for only 15.75!