On today's Dr. Oz Show, instead of the usual talk about losing weight, he actually talked about how women can build more muscle. Now this is a first from what we have seen from his show and something we agree with him about. Dr. Oz is recommending Creatine.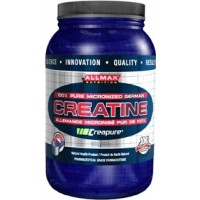 Dr. Oz on Creatine for Muscle Growth
To build even more muscle, add a creatine supplement to your daily shakes and smoothies. Consuming 2 grams of creatine a day while exercising provides your muscles with more energy, allowing them to grow as they're pushed to work harder and longer. Put simply, the more muscle you have, the more calories your body will burn.
We Agree!
We have always said that creatine (well creatine monohydrate) is a proven supplement shown to help build muscle. It's one of the most studied supplements out there for building muscle. It's been studied since the early 90's and is very effective. We even did a video on it below.
What Type Of Creatine to Buy?
Now Dr. Oz doesn't go into the type of creatine, but we have pure creatine monohydrate in which you can measure out any number of grams. Dr. Oz recommends taking 2 grams per day, so the creatine below would last you about 4 months. And the best price, it's very inexpensive.
You can purchase 400 grams of pure creatine monohydrate for just $11.99!