On a recent Dr.Oz Show, Dr. Oz talked about a few different disease fighting teas. One of these teas was to fight certain types of cancer. This tea was called Darjeeling Tea.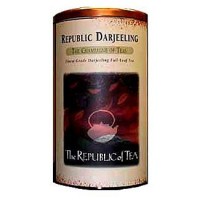 How Does Darjeeling Tea Fight Cancer?
Dr. Oz talked about a recent study released from Rutgers University. This study stated that Darjeeling tea helps to prevent stomach, prostrate, breast and colon cancers. The ingredients contained in the tea have also been shown to slow cancer growth.
Republic of Tea Darjeeling Tea
The Champagne of Teas - This Darjeeling tea blend has the smooth character of second flush leaves with the deep qualities of third flush leaves, resulting in a full, round cup.

Black Tea has less than half the amount of caffeine per cup than in a similar-sized cup of coffee.
Where to Buy Darjeeling Tea
You can purchase The Republic of Tea Darjeeling Tea for only $9.99