On today's Dr. Oz Show, Dr. Oz talked about boosting your immunity, especially during the flu season. He talked about how good health is dependent on a healthy digestive and immune system. Taking digestive enzymes can reduce stress to the digestive system, especially with all the processed foods that we are all eating now.
What Kinds of Digestive Enzymes Are There?
At BestPriceNutrition.com, we sell Digestive Enzymes specifically for different people. These are the best as they target certain people therefore working better than just taking a broad based enzyme. The enzymes we sell are all from a company known for digestive health, Garden of Life.
This is What Dr. Oz is Looking For:
Look for a company that specializes in enzymes
Check the potency and look for "blended" enzymes
Find a product with no fillers
Find a company that tests its product to ensure it meets label claims
Buy enzymes in capsules
Garden of Life Digestive Enzymes for Women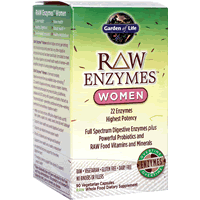 Buy Now for $34.97 + Free Shipping
Garden of Life Digestive Enzymes for Men
Buy Now for $34.97 + Free Shipping
Garden of Life Digestive Enzymes for Men Over 50
Buy Now for $34.97 + Free Shipping
Garden of Life Digestive Enzymes for Women Over 50