On a recent Dr. Oz Show, Dr. Oz spoke about different products and tea that can help fight against disease. Alot of these diseases were cancers, which makes it even more interesting to see if these can work. In this particular segment, Dr. Oz talked about the teas that can help fight diseases and even certain cancers. What was one of these teas? Earl of Grey Tea.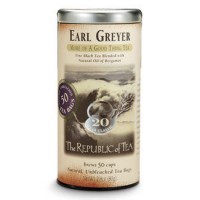 How Does Earl of Grey Tea Help Fight Disease?
Dr. Oz said that studies have shown that Earl of Grey Tea helps boost your immune system to help you fight common colds and the flu virus. Earl grey tea may also help prevent cardiovascular disease and even protect you against certain cancers.
Earl of Grey Tea & Mood
Earl of Grey tea has also been known to elevate the mood and aid in digestion.
The Republic of Tea Earl Greyer Tea
Our exceptional blend of this classic tea uses a superior, light liquoring leaf combined with top-grade, pure bergamot oil. Recognized as the best tasting Earl Grey available.

Black Tea has less than half the amount of caffeine per cup than in a similar-sized cup of coffee.