On a recent Dr. Oz Show, Dr. Oz touted a supplement that aids in natural pain relief by reducing inflammation and suppressing pain receptors. This natural remedy for physical discomfort is safe and can be used with various supplements avoiding complications with medicine interactions. What is that natural pain relief supplement? Feverfew!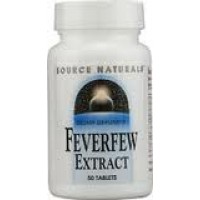 What is Feverfew?
Feverfew is a natural leaf extract that aids in reducing inflammation and physical discomfort. The plant has been used as a herbal treatment to reduce fever and to treat headaches, arthritis and digestive problems for many years dating back to Ancient Greece.
What Does Dr. Oz Say about Feverfew?
Dr Oz recommended Feverfew, a safe remedy you can use to reduce inflammation throughout the body.
How Much Feverfew Should I Take?
To help reduce inflammation Dr. Oz recommends to take one or two pills per day.
Where Can I Find Feverfew?
We carry Feverfew for only $6.19 right here!