On today's Dr. Oz Show, Dr. Oz talked about different way and things you can do to live longer. One part of living longer, is keeping your brain healthy. What did Dr. Oz recommend for this? Fish Oil.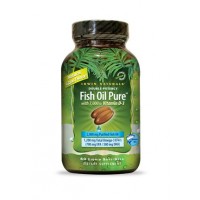 Dr. Oz on Fish Oil
As you age, Dr. Oz said that the number one thing to worry about was brain function. Fish oil and omega 3 help improve the way that your brain will function and actually increases cell growth. There is actually alot of research out there on the promise of taking this supplement.
Fish Oil / DHA Dosage & Directions
Dr. Oz recommends taking at least 1,000iu of fish oil each day. He says to focus on the ones with DHA.
Where to Buy Fish Oil?
We have 1,000mg fish oil from Irwin Naturals. Each softgel contains 1,000mg of Fish Oil. The cost is only $12.99 and will last you two months.