On a recent Dr. Oz Show, Dr Oz talks about a certain product that will not only help you manage your appetite but will promote fat loss as well. This supplement provides a fat absorbing inhibitor that blocks the transfer of carbohydrates to fat which in turn promotes weight loss. What is this fat burning supplement recommended by everyone's favorite Tv Doctor? Garcinia Cambogia!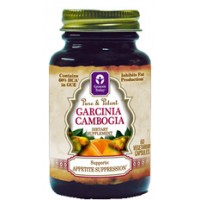 Why Use Garcinia Cambogia HCA for Weightloss?
When you supplement your diet with Garcninia Cambogia HCA your body will decrease the amount of fat that is stored in non essential areas such as the face. When you begin to lose weight your face is usually the first place fat is broken down and relased from the body. The inhibitor provided with this supplement is powerful enough to decrease the amount of fat transfer from carbohydrates. When you supplement with Garcinia Cambogia your metabolic rate increase thus increasing the amount of fat you are able to burn.
How much Garcinia Cambogia HCA Should I Supplement With?
Dr. Oz Recommends dosages between 500 to 1000 mg grams taken 3 times a day with food. The daily recommended doasge is between 1500 to 3000mg a day depending on how effective the dosage is for you. If you would like to increase your dosage we would recommend consulting with a physician for a more personal dietary plan and to avoid any complications.
Where Can I Find Garcinia Cambogia HCA for Weightloss?
We carry this extract here for fat burning for only $19.19!