Dr. Oz Green Coffee Bean Extract Consumer Beware
With all the hype around Green Coffee and its ability to promote weight loss, there have been a lot of companies throwing un-regulated products in bottles and slapping a label on it. We want to assure you that the products that we carry regarding Green Coffee Bean extract are legitimate and contain the recommended Ingredients by Dr. Oz
Look for Green Coffee Bean Extract Products to Contain:
45% or more chlorogenic acid
Green Coffee Anti-Oxidant
Atleast 200mg per Capsule
If the bottle doesn't list ingredients, don't buy it!
Why does it have to have Chlorogenic Acid?
Chlorogenic acid has specifically been shown to inhibit an enzyme, glucose-6-phosphatase, that promotes the formation of sugar in the liver. Hence, chlorogenic acid in coffee may be responsible, at least in part, for the reduced risk of glycemic disorders, like diabetes, with long-term coffee consumption. This ingredient is the key to the Green Coffee product and is the active ingredient that promotes weight loss.
Looking for the Trusted Green Coffee Bean Extract Products?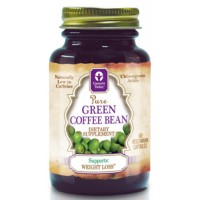 Contains Atleast 45% Chlorogenic Acid and contains Green Coffee Antioxidant
Svetol Green Coffee Antioxidant (GCA) and Contains 45% Chlorogenic Acid