On the Dr. Oz Show, Dr. Oz discusses a certain supplement that promotes healthy fat loss and is a supplement that can help you maintain a healthy weight. This supplement is not only an easy addition to your diet but it also has a great taste. What is that fat burning supplement that is convenient and tasty? Matcha Tea!
What is Matcha Tea?
Matcha Tea is a herbal tea that contains fat fighting blends ginger and green tea, this is also commonly referred to as the Green Tea Latte.
What does Dr. Oz say about Matcha?
Dr. Oz and his guest Kate Geagan talk about how this herbal blend will actually help you burn fat and gives you some energy due to the ingredients as well as due to the energy produced when the fat is burned and oxidated. These ingredients are loaded with essential Anti-Oxidants from the green tea and contains EGCG that promotes fat burning energy!
Where Can I Find Matcha Tea?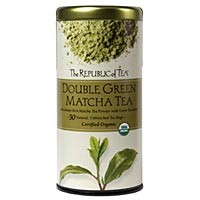 We carry this Matcha Tea from the Republic of Tea for only $13.00 right here!