Today's Dr. Oz Show was interesting in that he talked about some alternatives to different surgeries out there. And as he talks about a lot of the time, one area of surgery that is done a lot is in the area of weight loss. One of the popular surgeries out there is liposuction. And his recommendation for an alternative was Green Coffee Bean Extract.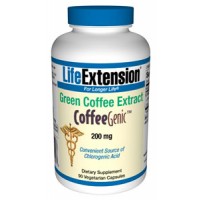 What is CoffeeGenic Coffee Bean Extract Dr Oz?
Now Dr. Oz talked about Coffe Bean Extract a couple weeks ago as a miracle weight loss supplement, so it makes sense to talk about taking this product before trying liposuction. For about $50, you can test this supplement out for a few months.
People who take extraordinary steps to limit their carbohydrate exposure may still be experiencing higher-than-desired blood sugar throughout the day. The reason? Blood sugar can surge to dangerously high levels following meals that can last for hours and even the entire day!
Studies show even in people with normal fasting glucose, gaining control of after-meal surges may provide additional support for cardiovascular and metabolic health.
To address this widespread problem, a natural compound is now available called CoffeeGenic™ Green Coffee Extract. 400 mg of this next-generation glucose control compound was shown to induce a remarkable 24% drop in after-meal blood sugar after 30 minutes while 200 mg generated a 14% drop.
At the core of CoffeeGenic™ Green Coffee Extract's power to favorably modulate after-meal glucose levels is chlorogenic acid, a polyphenol found in the green coffee bean. Chlorogenic acid has been shown to inhibit excess activity of glucose-6-phosphatase.4,5 The glucose-6-phosphatase enzyme triggers glucose formation from non-carbohydrate substrates and glycogen release from the liver, both of which can create excess glucose in the blood.6 Neutralizing excess glucose-6-phosphatase is essential for most people to achieve optimal glucose control. Another means by which chlorogenic acid supports healthy after-meal glucose levels is by targeting the alpha-glucosidase enzyme. This intestinal enzyme breaks apart complex sugars and enhances their absorption into the bloodstream.7
Chlorogenic acid also increases the signal protein for insulin receptors in liver cells.
Recommendation Against Liposuction
Dr. Youn, who was one the Dr. Oz Show said one secret plastic surgeons don't want you to know is that fat sucked out will come back somewhere else. On the average, 3 liters of fat is removed from the thighs. When it's removed from the thighs, the fat comes back in the arms. Dr. Youn referred to this as "The Popeye Effect".
Instead of liposuction, consider green coffee bean extract (as we talked about above). Coffee Bean Extract slows the release of glucose into the system after a meal. You should take a serving right after meals.