On yesterday's Dr. Oz Show, Dr. Oz talked about natural remedies for problems people usually take prescription meds for. One of these problems with High Blood Pressure. This is a problem that many people have. What was the remedy Dr. Oz talked about...Green Coffee Bean Extract!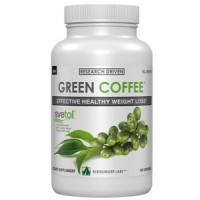 - 400mg Per 2 Capsules Formula as Recommended
- With 100% Svetol

- Unroasted as Recommended
- Lasts up to 3 Months
Dr. Oz on Green Coffee Bean Extract
Diuretic pills are prescribed for high blood pressure but green unroasted coffee bean extract contains a plant-derived nutrient to help relax the blood vessels. (When roasted, that ingredient is gone.) Take 200 mg capsules per day to reduce your blood pressure naturally.
What is Green Coffee Bean Extract
Coffee grows on trees and the fruit is a berry. The berry contains green seeds, which are the "beans." The outer part of the berry is washed away to get to the seeds. The seed has a higher amount of phenolic acids (50%) than the berry (about 35%). The problem with the roasted coffee you drink is that much of the beneficial phenolic content of the coffee bean is destroyed during the roasting process.
CoffeeGenic™ Green Coffee Extract is produced through a patented extraction process to deliver an extraordinarily high proportion of chlorogenic acid for maximum potency. The coffee beans sourced for CoffeeGenic™ Green Coffee Extract are organically grown. For optimal benefit, one vegetarian capsule of CoffeeGenic™ Green Coffee Extract should be taken before heavy meals. Each capsule is standardized to 50% chlorogenic acid.
Coffee beans are actually green seeds inside a bright red berry. Roasting them turns the seeds brown and creates the characteristic aroma and flavor coffee lovers crave. To create green coffee bean extract, the seeds are left unroasted. Instead they're soaked and then concentrated to create the extract.
Green coffee is derived from raw and unroasted seeds or beans from the popular coffea fruit. Green coffee bean extract has the ability to enhance and boost the overall metabolic rate of the human body. Green Coffee bean ideally speeds up metabolism by altering the means in which glucose in blood is absorbed into the body. It has been discovered that untreated or raw green coffee beans contain very high levels of chlorogenic acid, which is rich in antioxidants. Green coffee bean extract is low in caffeine and is not a stimulant. Adding green coffee bean extract to your diet and exercise can help increase your weight loss potential.