On today's Dr. Oz Show, Dr. Oz recommended different teas for all the different health problems that people have. He talked about sleep issues, weight problems, allergies and others. There is one tea though that he recommended for overall good health. One that you probably have heard about before. That tea is Green Tea.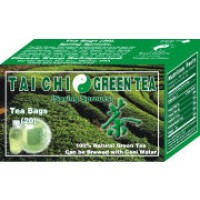 What is Green Tea?
Green tea has so many great properities that can help you stay healthy or get you there. The best compound in this product is a phytonutrient called EGCG. It increases the hormone CCK. CCK is responsible for creating a feeling called satiation. This EGCG phytonutrient is also an effective cancer fighter. In addition to these great benefits, studies show that drinking green tea may potentially prevent the onset or slow the progression of dementia.
Why are you not drinking it!
Where to Buy Green Tea?
Yes, you can buy it at pretty much any local grocery store, but we have one of the best ones, called Tai Chi Green Tea. It is one of our most popular brands. You can purchase 20 bags for only $17.99.