On today's show, Dr. Oz talked about different supplements, drinks and foods to help you get more energy, while also remaining healthly. One of these supplements is L-Carnitine.
What is L-Carnitine?
L-Carnitine, which naturally occurs in red meat and other animal source foods. We recommend supplementation to obtain optimal levels of this excellent amino acid. It is a non-essential amino acid that helps to maintain overall good health by facilitating the transfer of fatty acid groups into the mitochondrial membrane for cellular energy production.
Dr. Oz on L-Carnitine
Dr. Oz recommends taking 500mg twice a day for a natural energy boost.
Where to Buy L-Carnitine?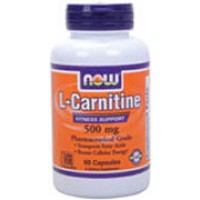 Now Foods L-Carnitine supplies 500mg per capsule. This bottle will last you 30 days if you take 2 capsules per day. Only $19.96!