On today's Dr. Oz Show, Dr. Oz talked about everything summer and how to protect yourself from any dangers of the summer. Now one of our favorite things during the summer is grilling. But Dr. Oz talked about the problem with all the smoke from the grill and exhaust and other things. He talked about taking a supplement called L-Carnosine.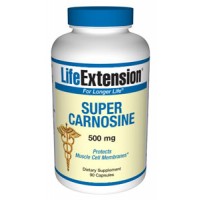 What is L-Carnosine?
Carnosine is a multifunctional dipeptide made up of a chemical combination of the amino acids beta-alanine and L-histidine. It is found both in food and in the human body. Long-lived cells such as nerve cells (neurons) and muscle cells (myocytes) contain high levels of carnosine.28 Muscle levels of carnosine correlate with the maximum life spans of animals. Carnosine is a naturally occurring antioxidant that has been shown to be an anti-glycating agent.
Since L-Carnosine is an antioxidant, Dr. Oz says it helps block the chemicals from smoke and other contaminants that you might be around during the summer that can actually cause Alzheimers.
L-Carnosine Recommends/Dosage
Dr. Oz recommends taking 500mg 2x per day.
Where Can I Buy 500mg L-Carnosine?
We sell 500mg L-Carnosine. With Dr. Oz's recommendation, one bottle would last 45 days.