On today's Dr. Oz Show, Dr. Oz talked about some 'Magic Potions" for weight loss and energy. Two of these supplements were Bee Pollen and L-Lysine. He talked about others including Brewer's Yeast, Nettle Tea, an Ugli Fruit Energy Elixir, Yeast Flakes and Kelp Noodles as well.
Dr Oz was joined by an audience member who stated that she hasn't had much energy since high school. (Didn't you love it when Dr Oz stated, "It's been THAT long since you've had energy?") She told Doctor Oz that she tried to exercise and eat healthy in order to keep her energy up but she needed an extra boost. Check out the miracle cures below to get your energy back.
What is Bee Pollen?
Bee Pollen is a potent source of energizing nutrition. It contains 18 amino acids, DNA, RNA, vitamins A, B-1, B-2, niacin, B-6, B-12, pantothenic acid, folic acid, C, D, E, K, choline, inositol, rutin and other bioflavanoids, calcium, magnesium, iron, zinc, 10 types of enzymes, coenzymes, and many other nutritional factors.
What Does Dr. Oz Say About Bee Pollen?
Dr. Oz Customers: This bee pollen supplement supplies 500mg per capsule. Dr. Oz's recommendation is up to 2,000mg per day. We recommend taking 4 capsules per day, 2 in the morning and 2 at night. This bottle will then last you an estimated 60 days days.
Bee Pollen Benefits
-contains vitamins and minerals
-has fatty acids
-gives off plenty of nutrients
Bee pollen is more rich in proteins than any animal source. The carbohydrates, protein, and B vitamins can help keep you going all day by enhancing stamina and fighting off fatigue. The amino acids and vitamins protect the skin and aid the regeneration of cells. It contains a high quantity of antioxidants that can help have an anti-inflammatory effect on the tissues of the lungs. It helps treat allergies and contains enzymes that can aid in digestion. Pollen is good for the intestinal flora and helps support the immune system. It has potent anti-clotting powers that could help prevent heart attack and stroke.

What is L-Lysine?
L-Lysine is an essential amino acid, meaning your body needs it every day. L-lysine can help support immune response and help manage stress. Solaray uses only 100% free form L-lysine because it contains no protein fragments commonly found in protein concentrates. Advanced zinc chelate is added for optimum bioavailability.
What Does Dr. Oz Say About L-Lysine?
Dr. Oz Customers: This L-Lysine supplement supplies 1000mg per capsule. Dr. Oz's recommendation is 1,000mg before each meal.

L-Lysine Benefits
-Improves energy
-helps with circulations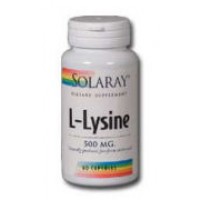 L-Lysine is an important and indispensable component of proteins. It promotes normal growth and development by increasing collagen formation. It supports the production of other proteins like enzymes, antibodies, and hormones. It promotes bone health by increasing calcium absorption and helps aid in weight reduction. L-lysine supplements are often taken by vegans who do not eat food products containing animal protein, athletes who are highly active and bodybuilders who want more muscle mass.