On today's Dr. Oz show, Dr. Oz talked about different products for common problems men and women have. One problem is with libido. Dr. Oz has talked about thsi before, but he once again recommended Maca Root.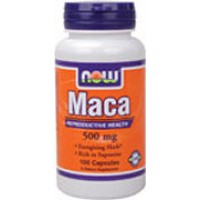 Dr. Oz on Maca Root
Dr. Oz recommended Maca Root for both men and women as a way to possibly increase their sex drive. You can get it in powder or pill form.
NOW Foods Maca Root
NOW Foods has Maca Root powder in pill form, making it easy to take when you need to. Maca (Lepidium meyenii) is grown at high elevations in the Andes region of central Peru. It has been used for centuries by indigenous Peruvians as a food source, as well as for increasing stamina and energy. More recent scientific studies have demonstrated that Maca supports hormonal balance and both male and female reproductive health.