Dr Oz Metabolism Booster Chocolate Tea
Dr Oz offers a delicious tip to fighting your stubborn metabolism. Dr Oz recommends taking Chocolate Tea because it will actually satisfy your sweet tooth and help you cut pounds. Chocolate Tea is delicious and it's a great alternative if your cravings sugars, or ice cream or even a chocolate candy bar.
If you have been to any health food store or even certain grocery stores, you most like have heard of The Republic of Tea. The Republic of Tea actually makes an amazing Chocolate Tea that goes hand in hand with what Dr Oz recommends and it comes in a nice container so whenever you have the urge to drink some you can just start a brew right away.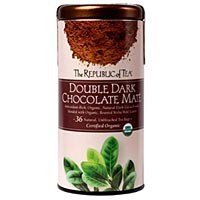 Buy The Republic of Tea Double Dark Chocolate Mate Natural Tea Bags Right Here!
Benefits of Chocolate Tea:
Anti-oxidant
Multi-Vitamins
Yerba Mate
Natural Dark Cocoa
Now you're probably thinking that this is too good to be true and it must have an insane amount of calories in it. While most delicious drinks have over 120 calories in a full serving, the chocolate tea listed above has only 4 calories! You'll burn that off literally just ingesting it!
Hurry up and buy some now so you have it in time for the holidays!
Thanks For Reading!
By Vince Malfeo