On a previous Dr. Oz Show, Dr. Oz talked about weight loss and one way to help with weight loss was to get all the toxins out of your system. One supplement he talked about that can help with this is Milk Thistle.
What Did Dr. Oz Say About Milk Thistle?
Milk thistle helps to flush out toxins that you get from food, beverages, and from the atmosphere. Toxins normally get filtered out by the liver and milk thistle helps the liver. This product is good for those with liver issues.
Dr. oz Recommendation / Dosage
Dr Oz says to take up to 200 mg per day.
Where to Buy 200mg Milk Thistle?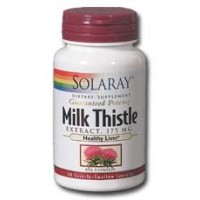 Solaray Milk Thistle contains 175mg of Milk Thistle per capsule.
• Guaranteed Potency
• 80% Silymarin
• Green Screened
60ct bottle size. Should last up to 2 month!
Solaray Guaranteed Potency Herbs deliver confidence by providing exacting and consistent dosing of thoroughly tested herbs of the highest quality available. Milk thistle is considered by many to be one of the best liver tonics in the world.