Something that plagues many of us, especially Spring through Summer (and especially this year for some reason) is allergies. It's common among men and women...and seems to be worst up where we are located in the midwest. Well Dr. Oz covered this issue and recommended a tea to help the symptoms of allergies.
What is Nettle Tea?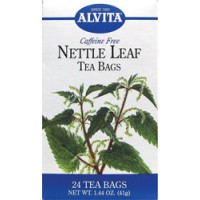 You may not have heard about Nettle Tea. Dr. Oz did talk about it in previous shows though. What makes this tea so important for people with allergies are it's antihistamine properties. They can prevent hay fever or allergy attacks from happening at the get go! This tea can also help relieve symptoms like running nose, sneezy and itchy eyes.
This tea is pretty dense, so those of you that are new to teas, you want to brew it for at least 15-20 minutes before drinking. During allergy season, you should make a larger pot and keep it in the fridge so you can drink it daily. If you want to freshen the taste of this tea, Dr Oz recommends adding lime.
Where Can I Buy Nettle Tea?
Here at Best Price Nutrition we sell Organic Nettle Tea for only $4.99. You get 24 bags at this price.