On today's Dr. Oz Show, Dr. Oz talked about how taking the supplement Zyflamend can help you with back pain. Now Zyflamend has always been a big seller for us, so we do agree that this product does show promise for back pain sufferers.
So What is Zyflamend?
New Chapter's patented Zyflamend formulation represents a scientific breakthrough in promoting a healthy inflammation response. Recent research studies suggest this may be an effective strategy to promote healthy joint function and normal cell growth.
Dr. Oz on Zyflamend for Back Pain
I often recommend the use of an agent called Zyflamend (New Chapter, Inc) for the relief of uncomplicated lower back pain, most commonly due to inflamed muscles. Zyflamend contains a mixture of ten different anti-inflammatory and antioxidant herbs, including turmeric (Curcuma longa) and ginger (Zingiber officinale), that work together to quench the fires of inflammation and help relieve pain. I usually prefer single agent remedies, but this product has been the focus of research trials and appears to be safe when used properly. Some of the ingredients could thin your blood slightly, so use caution if you are taking blood-thinning medication or are scheduled for an invasive medical procedure. A typical dose of zyflamend for the management of mild to moderate muscle pain would be 1 softgel twice a day with food for up to 4 weeks.
Where to Buy Zyflamend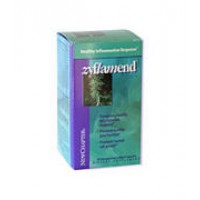 We sell Zyflamend in two sizes, 60ct and 120ct. Now Dr. Oz recommended taking 2 capsules a day for 4 weeks, so the 60ct size should be fine, as it will last you 1 month. You can purchase it for $19.99