On today's Dr. Oz Show, he talked about different products to help fight fatgue and gain more energy. One with a unique name was nopal cactus, though many in the industry know it as Prickly Pear.
What is Nopal Cactus / Prickly Pear?
For centuries, nopal (Opuntia spp.) the Mexican prickly pear cactus, has been consumed as a source of food and health. Clinical research suggests that nopal helps support healthy glucose balance when consumed with meals as a regular part of a healthy diet. By aiding the cells in absorbing blood sugar for energy and aids the body in energy production and sugar balance.
Dr Oz on Nopal Cactus / Prickly Pear
Doctor Oz has talked about this supplement on his show before, but has used the name Prickly Pear and mentioned how they help treat Diabetes. Nopal Cactus is commonly found in the US deserts and is sold in fresh, dry, gel and supplement form. He said that is fights fatigue, reduces inflammation, and helps the liver to detoxify the body.
Dr. oz Noal Cactus / Prickly Pear Directions
Take 1,000mg Per Day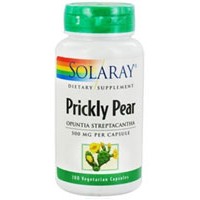 This Nopal Cactus supplement contains 500mg per capsule. Take 2 capsules per day. Only $9.99!