On last week's show, Dr. Oz talked about ways to fight and deal with stress. He talked about different foods, supplements and drinks that can help ease the stress from the day and help you get to sleep at night. One of these stress reducers was actually a tea. What was that tea? Passionflower Tea.
What is Passionflower?
This is an herb from the US and is great for eliminating anxiety. It is also a bit of a sedative, so it will definitely make you sleepy. It's perfect before a long nap or before you go to sleep at night. Passionflower tea is very light and it goes down pretty easily, which makes it perfect for help with sleep.
Dr. Oz Passionflower Tea Directions / Dosage
Dr. Oz recommends drinking 1 cup of tea right before bedtime when you are stressed out or have a hard time sleeping.
Republic of Tea Get Some ZZZ's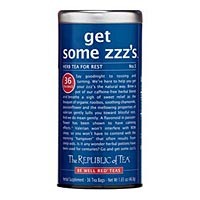 One of our best selling passionflower teas is the Republic of Tea Get Some ZZZ's. It has the passionflower herb as part of it's blend and it's formula is made to help with stress and get you to sleep. You can buy 36 tea bags for just $10.50!