On the Dr. Oz Show today, Dr. Oz is talking about a lot of different teas for different health reasons. From sleep to weight loss...to yes, constipation. What isn't there a tea for! So what tea does he recommend to take when you are not able to 'go' or are constipation? Peppermint Tea.
What is Peppermint Tea?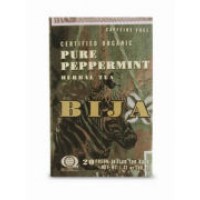 This is a delicious tea. Can I take it even if I don't have constipation? Well Dr. Oz says whenever you experience constipation, the compounds in peppermint tea can improve motility in your GI tract and get you going back to normal.
Where to Buy Peppermint Tea?
Here! Yes, Best Price Nutrition sells the caffeine free peppermint tea for only $5.59. You get 20 bags!