Dr Oz: Polypodium Leucotomos Extract PLE Sunscreen in a Pill
In another Dr Oz Episode recommendation the doctor claims that you can now take a pill instead of having to apply harsh sunscreens which can often come with adverse side effects or cause issues if you don't reapply. But now that has all been fixed a pill.
Sunscreen in a Pill: Enter PLE
We know that the sun has long been known to prematurely age the skin. By taking what is called Polypodium Leucotomos Extract it acts as an protection to the skin and can actually help against the suns damaging UV Rays.
Dr Maurico PLE Antiaging
The Guest doctor was on Dr Oz for anti-aging purposes and says that PLE is going to be a game changer for helping take years off your face.
What is PLE
Studies so far have been small, but they suggest that Polypodium leucotomos can significantly reduce sunburn severity and that it may help prevent skin aging and decrease the risk of cancer from UV radiation. Dr. Oz says those who use sunscreen look 24% younger than people who do not, so PLE can be an easy and powerful way to have a dramatic impact on the health of your skin.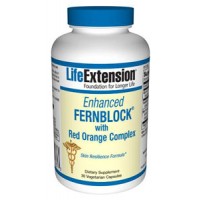 Polypodium Leucotomos Extract Supplement Information
Take 240mg per day
Take 20-30 minutes before going outside
Where to Buy Polypodium Leucotomos Extract
We Carry Life Extension FernBlock