Now we all know it's October and Halloween is right around the corner. Well instead of just carving your pumpkin this year, why don't you boost your memory as well! On today's Dr. Oz Show, Dr. Oz talked about the seed that can help you boost your memory. If you haven't guessed it already, it's Pumpkin Seeds!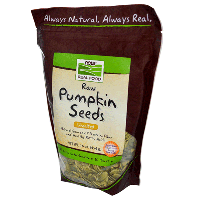 Why are Pumpkin Seeds Good for the Memory?
Dr. Oz says Pumpkin Seeds are loaded with magnesium, which helps the brain to function properly. If you haven't ever tried pumpkin seeds, they are actually quite good. But if you don't like them raw by themselves, you can take them and put them in your pudding or yogurt.
Where Can you Buy Pumpkin Seeds?
Well if you don't want to eat the ones in your pumpkin, try buying them raw. We sell them for only $4.99 per bag!