Dr Oz Pyrroloquinoline (PQQ) Anti-Aging Antioxidant
Recently Dr Oz introduced us to what might not be the fountain of youth but may be the next best thing. Pyrroloquinoline (PQQ) is a novel compound which triggers growth of new mitochondria in cells.
What is Pyrroloquinoline PQQ
PQQ Is an essential ingredient found in fermented foods, spinach, mustard greens, fermented soy and beer! It is also found in berries, however in order to get the amounts that were shown in studies to trigger the fountain of youth effect in our mitochondria we require supplementation of PQQ.
Dr Oz PQQ Fountain of Youth?
PQQ is a very potent free radical scavenging antioxidant. But what it does inside the cell in over 200 studies is what has astounded researchers. By enhancing the efficiently of the mitochondria and even triggering the spontaneous growth of new mitochondria.
What does this mean?
Pyrroloquinoline PQQ Benefits
By sparking the growth of new mitochondria (energy producers of the body) we get a host of benefits!
Increased Energy
Enhanced Cognition & Memory
Reduced Mitochondrial distress
Inmcreased skin elasticity
Neruo Protective Properties
Heart & Cardio Protector
Enhanced Nerve Growth
Dr Oz Pyrroloquinoline PQQ Dosage Directions
Look for products containing BioPQQ which is the standardized form that was used in the studies.
Where to Buy PQQ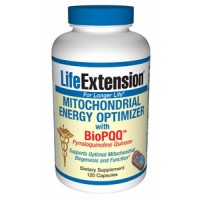 Life Extension Pyrroloquinoline with BioPQQ