On a recent show Dr. Oz talks about an easy way to reduce heart disease with a simple product. Dr. Oz suggests that this product is becoming the new source for Omega 3 fatt acids which aids the body in lowering an individual's risk for heart attack, stroke, certain cancers, depression and overall inflammation. What is this up and coming supplement? Krill Oil!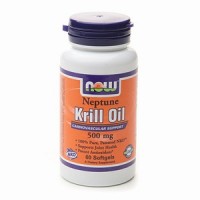 What is Krill Oil?
Krill oil has emerged as the next leader in the wonderful world of omega-3s. Just like fish oil, krill oil contains long-chain polyunsaturated fatty acids of the omega-3 family, EPA and DHA. Krill oil is found in tiny crustaceans, similar to shrimp, and is the main food source for whales in the Antarctic Ocean. It is found to be a more sustainable source of omega-3s because it's extracted at the bottom of the food chain and is located in one of the cleanest oceans due to its low occurrence of commercial fishing. These two factors make for an omega-3 source that is virtually free of toxins, metals and PCBs.
Directions/Dosage:
Research shows that krill oil works quicker than other omega 3s and has no fishy smell. Take at least 300 mg per day.
Where Can I buy Krill Oil?
Find it here for only $19.99