Dr. Oz Remedy for Bruising/Swelling-Arnica
On a recent episode of the Dr. Oz Show, the topic was homeopathic remedies. Dr. Oz's guest was Dr. Albert Levy, a family physician. Dr. Levy recommended Arnica as a homeopathic remedy to accelerate the recovery process for his patients recovering from surgery.
Arnica Benefits
Arnica is a popular homeopathic remedy that's used to relieve muscle pain, swelling, and bruising. This herbal supplement works by stimulating white blood cell activity, which dispenses fluids trapped in muscles and joints, leading to a reduction in inflammation.
Research indicates that Arnica has anti-inflammatory and anti-bacterial properties, making it useful for healing wounds, sunburn, and a variety of other skin conditions.
Arnica Uses
Arnica is a versatile oral and topical treatment, available in both gel and pellet form.
Gel- Apply to affected areas no more than 4x per day. Safe for children age 2 or older.
Pellets- Dissolve 5 pellets in the mouth no more than 3x per day.
Where to Find Arnica Gel?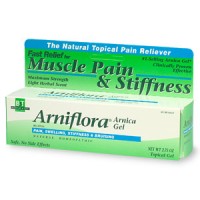 We carry Arnica Gel here for only $8.99!