On today's Dr. Oz Show, Dr. Oz talked about way to help you live longer. You can't live forever, but he said there are some supplements out there that can help you live a longer, happier life. One of these supplements is Resveratrol.
What is Resveratrol?
Resveratrol works by reducing inflammation in the body. We know that inflammation causes blood clots, and blod clots can lead to heart attacks in both men and women. Resveratrol can help reduce inflammation in the body by 26% according to studies.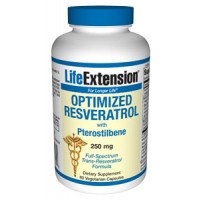 Resveratrol Dosage
Dr. Oz recommends that you take 500mg per day to get the maximum benefits of Resveratrol. He also recommends that you take Resveratrol with food.
Where to Buy Resveratrol?
We sell Resveratrol is 250mg capsules. With this dose, you can take one capsule with breakfast and one with dinner to meet Dr. Oz's recommendation. You can get a month's supply for just $34.50.