On a recent Dr. Oz Show, Dr. Oz talked about different foods and supplements to take to help fight and aid inthe prevention of certain cancers. One Cancer he talked about was lung Cancer. What supplement did he recommend. A supplement called Selenium.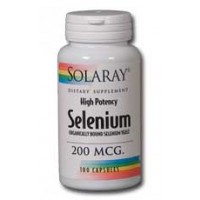 Dr. Oz, What is Selenium?
Selenium is a super antioxidant. It can help in the prevention of lung Cancer, as well as Colorectal Cancer. Selenium works by building up the body's natural defenses to these types of Cancers. You may have seen Selenium in your daily mutivitamin, but trust me when I tell you that this is not enough Selenium to get the job done, which is why you need to take a separate Selenium supplement.
Selenium Dosage / Directions
Dr. Oz recommends that for maximum benefits, you take 200mcg per day.
Where to Buy Selenium
We sell the Source Naturals Selenium in a 200mcg dose for just $8.57