On a recent Dr. Oz Show, Dr Oz discusses a way to relieve muscle and joint pain without having to stock up on over the counter pain relievers. What is the natural alternative to help reduce muscle and joint pain? Tart Cherry!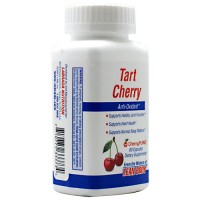 What is Tart Cherry?
Tart Cherry is rich in natural compounds, such as anthocyanins, which have been found to support relief of occasional inflammation and to have anti-oxidative health properties. It's also a sleep trick, as we've heard on the show before.
Anti-Oxidants are great to achieve overall health as well as:
Supporting healthy joint function.
Supporting heart health.
Supporting normal sleep patterns.
What does Dr. Oz recommend?
It is recommended to take 2 capsules of the Labarada Tart Cherry in the evening with food.
Where to Buy Tart Cherry?
We currently carry Labrada Nutrition Tart Cherry for only $15.99 here!