On the Dr. Oz Show, Dr. Oz talks about a supplement that is essential for overall health and maintaining energy levels to get you through the day. Not only does this supplement aid with proper nutrient absorption but it also helps relieve stress. What is that do all supplement? Vitamin C!
What is Vitamin C?
Vitamin C is one of the safest and most effective nutrients, experts say. The benefits of Vitamin C may include protection against immune system deficiencies, cardiovascular disease, prenatal health problems, eye disease, and even skin wrinkling.
What is Vitamin C Time Release?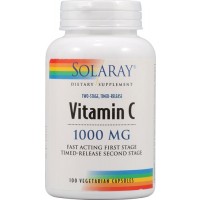 This Vitamin C supplement is a patent pending 2-stage time release product. 1/2 of this Vitamin C supplement is released immediately and the other 1/2 is released over a period of 12 hours, allowing you body to take it all the nutrients over a period time. If you take 1 tablet every 12 hours, you will have continued release of Vitamin C in your body all day long.
What Does Dr. Oz say about Vitamin C?
Dr. Oz says that one of the best supplements and all natural herbs is Vitamin C, which has been proven to fight physical as well as psychological effects of stress. If you are stressed out and looking for a health alternative that will boost your mood and relieve you of stress, then Vitamin C is perfect for you!
How Much Vitmain C Should I Take?
Take 1000 mg Vitamin C in a time release capsule. Make sure to do it in the morning so the effects last throughout the day.
Where can I find Vitamin C Time Release?
We carry this stress relieving all natural supplement for only $8.99 right here!