Dr. Oz Recommends Turmeric for IBS Symptoms
Dr Oz recommends taking Turmeric to help ease your IBS Symptoms. If you are not familiar with IBS, then you are quite fortunate. IBS stands for "Irritable Bowel Syndrome". Dr Oz suggests that taking Turmeric actually can help you with that condition.
Take Turmeric for IBS
Turmeric is a very powerful spice that you might already have in your house. Turmeric is known to calm down or relax your intestinal system which will help with your IBS symptoms.
Suggested Dosage:
Dr Oz suggests taking 60mg, 3 times a day before meals to help your intestinal tract.
New Chapter Turmeric Force
We actually carry plenty of Turmeric and our favorite one is New Chapter Turmeric Force 30 Softgels. These promote proper health and wellness. They will also help reduce symptoms of IBS and help with stress and anxiety.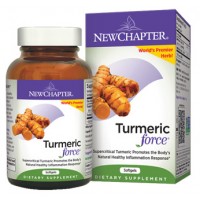 Buy New Chapter Turmeric Force right here.
Thanks for Reading!
By Vince Malfeo