On the Dr. Oz Show, Dr. Oz talks about two products one will help you acheive better and deeper sleep and the other is essential for proper mineral balance. These two natural supplements aid in providing you nutrients for the best possible health.Dr. Oz and with the help of Dr Andrew Weil a frequent guest on Dr Oz's show, talk about alternative approaches to health featuring these two products. Valerian Root and Iodine!
Natural Sleep Aid
Dr.Oz had one of his frequent guests on his show, Dr. Weil, to discuss how a simple root extract can actually aid in promoting deep sleep for better health. Dr. Weil says that getting good sleep is essential and key to good health.While he says he sleeps well most of the time, he keeps Valerian in his nightstand because it is a safe and natural sleep aid.
Iodine for Optimal Health
Dr. Weil says that his first essential is really important because it is one that a lot of women are deficient in, as many as 1 in 3, actually. That essential is Iodine and Dr. Weil calls it his multi-purpose mineral and he says it is essential for optimal health.
Benefits:
controls metabolism

basic regulators of all body function

reduces potential health issues such as fatigue, weight gain, and even thyroid problems.
It is recommended that we get 150 mg per day of Iodine, which is a small amount according to Dr. Weil, so with a few adjustments to your diet you could be getting enough every day because we only need trace amounts of Iodine.
Where can I find these two products?
You can purchase this natural sleep aid right here for only $5.62!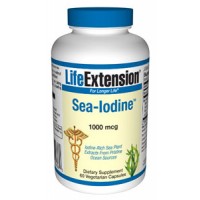 You can purchase this general health supplement right here for only $6.00!