On the Dr. Oz Show, Dr. Oz discusses the importance of this essential Vitamin and how it can change your health and having you feel healthy and happy. The Majority of people are deficient in this Vitamin especially during the winter season. This Vitamin also helps with the immune system, bone health and healthy digestion. What is that vital vitamin and essential supplement? Vitamin D!
Vitamin D
Many people are Vitamin D defficient which can have a serious impact on your health and how you feel. Vitmain D is found in various foods such as fatty fish, diary products and certain plants like mushrooms.To make vitamin D more available, it is added to dairy products, juices, and cereals that are then said to be "fortified with vitamin D." But most vitamin D, between 80% to 90% of what the body gets, is obtained through exposure to sunlight.
Benefits:
Healthy Bones & Calcium Absorption
Healthy Colon & Digestion
Memory & Concentration
Breast & Prostate Health
Proper Cell Replication
Immune System Support
Cell Proliferation and Differentiation
Vitamin D Supplements: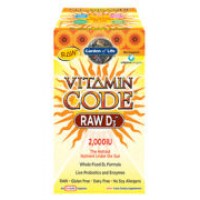 Garden of Life Vitamin D3 2,000 IU Vegetarian Friendly-$24.47
When only the best will do be sure you are feeding your body with Vitamin Code RAW D3 the only RAW, whole food vitamin D3 formulated with RAW Food-Created Nutrients. RAW Food-Created Nutrients are cultivated with live probiotics, antioxidants, enzymes and nutrient-specific peptides for targeted delivery and natural recognition of nutrients by your body.
Garden of Life Vitamin D3 5,000 IU Vegetarian Freindly-$17.47
Today many experts are recommending between 400 IU to 1,000 IU for adults, but many researchers, scientists and physicians are pushing for higher amounts of 2,000 IU of vitamin D daily to provide maximum health benefits. More studies continue to determine the ideal Vitamin D levels. What they all agree on is that most people need more Vitamin D to prevent health deficiencies.
Check out all the Vitamin D products we carry here