On today's Dr. Oz Show, Dr. Oz had on Dr. Weil who talked about his solutions for common problems that many people suffer from. One issue is with digestion. Problems with digestion, heartburn, stomach pains, and IBS are the classic side effects of the standard American diet and stress. What was his solution for fighting this problem? A supplement called DGL.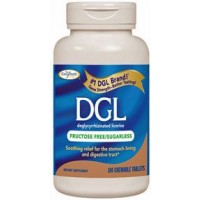 What is DGL Licorice?
DGL is a digestive aid that is really called deglycyrrhizinated licorice, though DGL is much easier to pronounce! Dr. Oz and Dr. Weil said not to confuse this with candy. DGL is actually an herbal extract that can help with indigestion and heartburn, something many people suffer from.
How does DGL Work?
DGL increases mucous coating in your stomach, lowering esophagus and intestinal tract, protecting those tissues from irritation by stomach acid. This action can help your GERD symptoms without the use of meds like ibuprofen, which can help, but cause damage as well.
Where to Buy DGL?
The actual supplement on the show is available here, at Best Price Nutrition. Dr. Oz and Dr Weil recommend taking two chewable 75mg tablets before or between meals.
Side Effects / Warnings
Do not take if you have diabetes, high blood pressure or a history of heart disease.