Dr Oz on 500mg White Kidney Bean Extract
Dr Oz said that you should take White Kidney Bean Extract before meals where you will eat a starch or carb. You can eat white kidney beans, but Lisa Lynn said that you would have to eat A LOT of white beans in order to get the same amount of benefit as you get from the extract found in one pill.
Doctor Oz brought up a good point, which is that the recommended a total of 5 Metabolism Busters, but should we really do all five at once? Lisa Lynn said to pick one and try it for a week or even a month before adding another one, otherwise you will never really know what is working for you and what is not. So which are you going to try first: White Kidney Bean Extract, Konjac Root Fiber, Raspberry Ketone or L-Carnitine? Please leave your initial thoughts and share your experiences in the comment section below!
This ingredient is a known carb blocker and works great for those "off" eating days. Taken along with a high-carb, high-fat meal, white kidney bean extract will block those unwanted calories from being stored as fat. It will also keep your blood sugar balanced. Aim for 300-500 mg two times a day with meals.
Dr. Oz White Kidney Bean Extract Directions: Aim for 500mg before your biggest meal.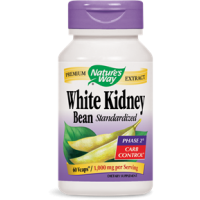 Contains: 500mg White Kidney Bean Extract per capsule. Only $13.99!