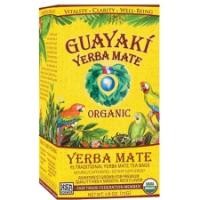 Dr Oz Yerba Mate for Weight-loss
This Yerba Mate tea supplies 25 tea bags. Dr Oz recommend in the morning instead of coffee. Popular in South America, yerba mate tea is chockfull of antioxidants and vitamins, and acts through 2 mechanisms to help you lose fat.
Yerba Mate Benefits
The first speeds your digestion for the entire day. Second, it actually reduces fat absorption by decreasing the pancreatic lipase enzyme. Additionally, yerba mate does not produce the caffeine-related crashes that some people experience with coffee and can give you 3-4 hours of very stable, clean energy.
Dr Oz Best Yerba Mate Tea Recommendation
Guyaki Yerba Mate Tea is Our Best Selling Yerba Mate Product!